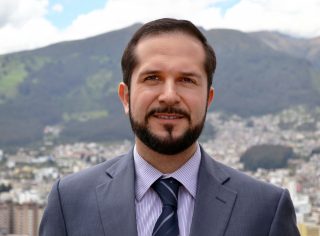 ---
Gustavo Arrobo
Abogado Asociado en Corporate / M&A, Oil & Gas, Compliance, Propiedad Intelectual e Industrial en ECIJA GPA
Quito, Ecuador
T. +593 2986528
garrobo@ecija.com
Linkedin
Gustavo cuenta con más de 10 años de experiencia. Ha asesorado a empresas nacionales e internacionales en materias de derecho corporativo, energía y solución de conflictos. Desarrolla su practica en procesos de M&A, contratación e inversión extranjera directa, licitaciones y adjudicaciones bajo distintas modalidades contractuales, establecimiento y disolución de sociedades nacionales y extranjeras, entre otros.
Es secretario arbitral oficial de la Cámara de Comercio de Quito y ha colaborado con la International Chamber of Commerce, Chapter Ecuador, Young Arbitrariors Forum (ICC-YAF).
Se desempeña como docente en la Universidad de las Américas, en las asignaturas de Derecho de Integración, Sistemas Jurídicos Comparados, y Métodos Alternativos de Solución de Conflictos.
Es abogado por la Universidad de Los Hemisferios en Quito y tiene un Máster en Abogacía en la Escuela de Derecho de la Universidad de Pittsburgh, Estados Unidos. También tiene el título de Especialista en Derecho Corporativo y Control de Riesgos Legales de la Empresa (COMPLIANCE) por la Universidad Carlos III de Madrid.
Durante sus estudios en EE.UU. obtuvo el primer lugar en el Fifth LL.M. International Commercial Arbitration Moot Competition en la American University Washington College of Law.
Gustavo recibió una mención de honor en su tesis de grado titulada "Impuestos a los ingresos extraordinarios en el contrato minero" en la Universidad de los Hemisferios.
Ha sido reconocido por Legal 500 Latin America como Next Generation Lawyer y cómo Rising Star en el área de Energy and natural resources.