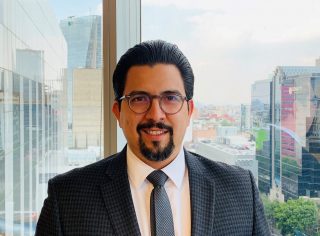 ---
Adalberto Méndez López
Senior Associate, Business, Human Rights & Corporate Social Responsibility
amendez@ecija.com
Specialized attorney on Business & Human Rights consultancy and Corporate Social Responsibility projects, with a preventive legal risk focus. He has more than 5 years experience on strategic litigation before different international human rights systems.
ACADEMIC BACKGROUND
Adalberto studied a Law Bachelor Degree at Universidad La Salle, Mexico City.
He laso studied a pre-Master Program at Istanbul Bilgi Universitesi, Istanbul, Turkey
He has a specialization Certificate on International Human Rights Law from the American University Washington College of Law, Washington, D.C.
Adalberto studied a Legum Magister Program on International Legal Studies at the American University Washington College of Law, Washington, D.C.
He is pioneer lawyer in Mexico to provide legal consultancy on Business & Human Rights, and on the development of corporate social responsibility and integrity programs, focused on the prevention legal risks for human rights violations.
Adalberto has ten years of experience on domestic and international strategic litigation on human rights, before the Universal, Interamerican and African Human Rights protection systems.
He is foreign consultant for international organizations and foreign governments, in around 17 countries, and has served as public officer with experience of more than 5 years in public policy and govermental affairs, serving as diplomat at the Diplomatic Mission of Mexico to the OAS, as Executive Director of the Disability Division at the National Comission of Human Rights, Chief of Staff at the Mexican Senate and as former Vice Ministry of Social Security for Foreign Representation Ofiices of Mexico.
Adalberto is member of the Mexican Bar Association (Mexico), the National Association of Corporate Lawyers (Mexico), and the International Legal Fraternity Phi Delta Phi (U.S.)
Adalberto is a law Professor in different academic institutions of Mexico and abroad, as, Universidad La Salle, Universidad Panamericana (UP), Escuela Libre de Derecho, Universidad Iberoamericana, Instituto Tecnológico Autónomo de México (ITAM) and Universidad Nacional Autónoma de México (UNAM). Former Human Rights visitant professor at the Master Program on Social Work, of the SUNY University at Buffalo, in New York, and international consultant of the OAS Inter-American Institute of Human Rights in Costa Rica.
He is English fluent speaker, with studies on Italian and japaneses (basic level).