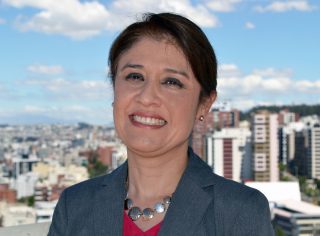 ---
Christel Gaibor
Associate Lawyer in Dispute resolution: litigation and arbitration, Regulatory public in ECIJA GPA
Quito, Ecuador
T. +593 2986528
lgaibor@ecija.com
Linkedin
Christel is a lawyer specialized in public law, arbitration, investment, tax law and litigation with more than 10 years of experience. She has experience in negotiation in controversial processes, both national and international, she has participated in processes for terminating oil contracts and in renegotiation processes.
She was a member of the Ecuadorian Delegation for the sessions of the UNCITRAL II and III Working Groups in 2014 and 2015. She is a lawyer and a Doctor in Jurisprudence from the Pontifical Catholic University of Ecuador and has a Master in International Business Law from the University of La Rioja, a Master in International Business Law from the OBS Business School in Barcelona and completed the MBA studies in Business Management from the National Polytechnic School of Ecuador.
Christel is a member of WIP Ecuador and has been a speaker for the United Nations on trade and development, for the Ecuadorian-American chamber of commerce, for the ICC Ecuador and for the Embassy of Ecuador in Washington.
She speaks English and Spanish.