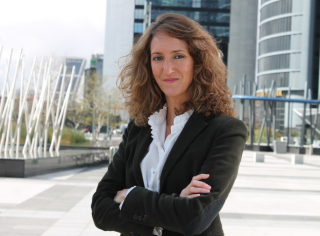 ---
Cristina Villasante
Partner at TMT Area
T. +34 917 816 160
cvillasante@ecija.com
Cristina Villasante is a partner in the TMT area of Madrid and has more than 10 years of experience in intellectual property, technology contracting, digital services and information technologies. She has participated in advising on digital transformation projects in companies in all economic sectors. She is an expert in the negotiation and preparation of all types of contracts, in particular technological contracts, software licenses, implementation of systems or infrastructures and their exploitation. She has extensive experience in the management of intangible assets of companies and information management.
In addition, she has coordinated at the Firm a practice group dedicated to blockchain and distributed registry technologies, leading some of the most relevant operations that have taken place in the sector.
Villasante joined ECIJA in 2018, after his previous stint at firms such as Eversheds, PwC and Accenture.
As for teaching work, she is the director of the Center for Legal Innovation of the Camilo José Cela University and Second Vice President of the Spanish Association of Entertainment Law (Denae), as well as a professor of the Master of Intellectual Property at Icade. Cristina is specifically an occasional speaker at specialized forums and business schools such as The Valley, IE or Blockchain Intelligence Law Institute.
Villasante has participated in different academic articles related to his areas of knowledge. Collaborator in the collection "Actuality" of New Technologies by Tirant Lo Blanch and the Memento of New Technologies 2020-2021 by Francis Lefebvre.
She has a law degree from the Autonomous University of Madrid, with a Master's Degree in Intellectual Property Law from the Universidad Pontificia Comillas.
Her working languages are Spanish and English.