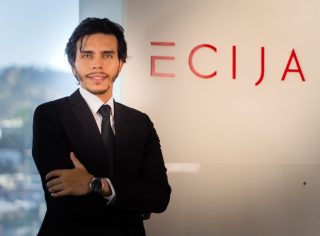 ---
Daniel Williams
Business Manager and Senior Associate in Corporate M&A, Public & Commercial Procurement and Insurance & Reinsurance
T. +504 2552 6144
dewilliams@ecija.com
EXPERIENCE
In 2014, Daniel obtained the title of Lawyer with orientation in the Commercial Law area from the Universidad Tecnológica Centroamericana (UNITEC), preparing his graduation project related to "The stock market in Honduras" emphasizing his capacity within such stock market. He is currently pursuing his Master's in Business Law "LLM", in the Pontificia Universidad Católica de Chile "UC" (2021).
In 2014 he worked at the Casco-López Law Firm, developing in various branches of law for six months, prior to starting his work with the regional firm Lexincorp at the end of the same year, where he carried out his first consultancies for foreign companies, especially from the commercial and administrative law perspective, supporting several multinationals in their operations in Honduras, providing day-to-day advice.
In 2015 Lexincorp partners joined BLP "Business Law Partners" where Daniel served as Associate in the Corporate and Insurance & Reinsurance team until the beginning of 2021. In the beginning he worked to advise and execute the acquisition of several of the first renewable energy projects in Honduras, developing legal consulting in various areas of law. In the same way, he advised different clients in the insurance business, both in regulatory matters and others related to the start of operations for reinsurers in Honduras; He has also advised various clients on contractual matters, as well as legal analysis on the feasibility of creating insurance products in Honduras. Since 2017, Daniel has advised and represented high-profile clients on issues related to public and / or private contracting, especially in matters of public transport, energy, security, databases and infrastructure. He provides advice on corporate governance issues for insurance institutions and for the other specially supervised companies. He is currently the Legal Project Manager of several companies in the Central American region and Panama.
His experience extended to advising a diversity of companies on issues regarding Data Protection, Consumer Protection, Civil Contracts, Advertising, Electronic Commerce, as well as others of an administrative or public regulation nature.
Then, in 2020 he ventured into the world of Soccer Law, advising the Legal and Disciplinary Commission of the National League of Futsal Honduras, to later be appointed as a member of the Board of Directors of LINAFUTSALH in 2021.
EDUCATION
Law Degree – Universidad Tecnológica Centroamericana, Honduras
Master Degree in Business Law "LLM" – Pontificia Universidad Católica de Chile (candidate 2021).
MORE INFORMATION
Member of the Honduran Lawyers Association.
Member of the Board of Directors of the National Futsal League of Honduras (LINAFUTSALH).
Bilingual (English-Spanish)