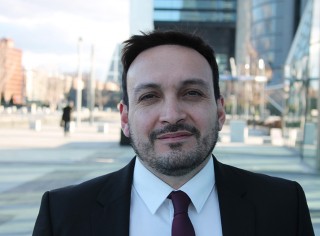 ---
Franz Ruz
Partner Latam Desk, Intellectual Property, Media, Public Policy

T. +34 917 816 160
fruz@ecija.com
Linkedin
Career:
Partner of the Public Policy & Digital Economy and Head of LatAm Desk at ECIJA. With a clear international profile, Franz Ruz is a highly regarded expert in Intellectual Property, Entertainment and Technology Law, and internationalization of companies in the TMT sector in Latin America. Franz Ruz has more than 10 years of experience as a legal advisor and strategic consultant to companies in the technology, creative and media industries, and governments, international agencies and commercial associations.
He has directed and coordinated one of the major independent studies commissioned by Google in Europe ('The Future of copyright and content generated by users', 2011) and has been advisor to the Ministry of Culture of Chile in the design of its film policy on audiences (2013-2014). He has also been director of the Legal Guide to Film Financing in Spain (Instituto Author, 2010), and co-director of the White Paper Animation in Spain (2012).
He has worked as a consultant for United Nations (CEPAL) for the Open Data for Development project (2013) in Latin America and the Caribbean, and collaborated with theWorld Intellectual Property Organization (WIPO) as International Speaker in National Workshops in Eastern Europe. He has been asked to give his expert opinion by theSpanish House of Representatives (2010) and the Republic of Chile (2013) on legislative processes in intellectual property; and by the Inter-American Development Bank(2013) as International Speaker on Global Services.
He lectures on postgraduate programs at Unviersidad Autónoma de Madrid; IE Business School; Universidad Carlos III de Madrid; Escuela de Organización Industrial (EOI, Spain); Universidad de Alicante; Universidad de Buenos Aires and Pontificia Universidad Católica, amongst others; and is lecturer on virtual courses related to UnX Latin American scope, an initiative led by the Massachusetts Institute of Technology (MIT) where has been Director of the first MOOC on legal protection of creation and fashion design.
As a strategic consultant Franz Ruz has worked on projects at the Spanish Institute for Foreign Trade (ICEX), Ministry of Industry, Spain, related to internationalization and Digital Economy. He is co-author of the Handbook of Electronic Commerce (2013) and Report on Opportunities of International Digital Distribution for the Editorial sector (2012) published by this organization. He has also been a consultant on projects of the Ministry of Industry, Spain, on open source software (2009).
He has been Director of the legal module on the course about Creative, Business and Legal matters in Animation at IBERMEDIA (Madrid, 2013) focused on media co-production between LatAm and Iberia.
He has received a LLM in Intellectual Property from Universidad Carlos III de Madrid; LLB from Universidad Autónoma de Madrid; BS in Art history from Pontificia Universidad Católica. He has followed a stay as exchange student at University of Iowa (USA) and Berlin (Germany).
Co-author of the Memento of New Technologies Law, Editorial Lefebvre – El Derecho (2017)
Member of the Madrid Bar Association.