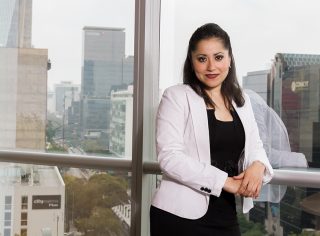 ---
Jennifer Hamed Kassian
Associate of Dispute Resolution: Litigation and Arbitration practice of ECIJA México
P: (+52 55) 56 62 68 40
jhamed@ecija.com
Linkedin
Jennifer has more than 14 years of professional practice focused on the defense of human rights of private clients and corporations, litigation and mediation, as well as the practice of administrative law.
She studied Law Degree at Universidad del Valle de México, UVM. She also has Postgraduate studies in Civil and Commercial Procedural Law at Universidad Panamericana, UP, and Postgradute studies in the New Constitutional and Legal Framework in Human Rights and Amparo from Escuela Libre de Derecho, ELD.
Jennifer studied a Master of Laws in Human Rights at Instituto Tecnológico Autónomo de México, ITAM.
She speaks Spanish and English.