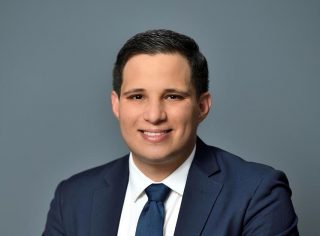 ---
Roger Urquía
Of Counsel specialized in Labor Law and in Procedure Law at ECIJA Honduras
P. +504 2552 6144
reurquia@ecija.com
Lawyer with over five years of professional experience in labor law and labor procedure law. He has extensively worked on labor internal processes, national labor disputes, and legal representation of employers and employees in different administrative and judicial proceedings.
EXPERIENCE
 Attorney. Urquía Rodríguez Law Firm (2015-2017): Legal assistant and attorney in administrative and judicial processes, as attorney of the Urquía Rodriguez Law Firm assisted in judicial processes such as preparing evidence, review of files, drafting of reports; as well as in administrative proceedings such as follow-up to processes of registration of trademarks, claims before the Secretariat of Labor and Social Security, extrajudicial collections.
Judicial Control Officer. Banco del País (2017): As an employee of Banco del País in the position of Judicial Control Officer depending on the legal area, I obtained experience in judicial processes of civil matters taking control of executive and ordinary lawsuits trials in which the bank was a party in the departments of Francisco Morazán, Choluteca, El Paraíso, Olancho and Comayagua.
Associate. BLP Honduras Abogados (2017-2019): Associate attorney assigned to the labor area of the firm, I had the experience of advising both domestic and foreign companies, assist trainings, drafting, writing and registration of internal labor regulations, assistance to clients in internal disciplinary processes, representation of clients in the Secretariat of Labor and Labor Court of Francisco Morazán, Comayagua and San Pedro Sula. Registration of clients before the Intercollegiate Committee for the Registration and Classification of Construction Companies and Energy and Architecture Consultants (CIRCE), registration of trademarks and extrajudicial collection processes.
Lawyer. Urquía Rodriguez. Law Firm (2020-present): Lawyer assigned to the area of labor litigation, representative of employers and workers with a high level of recognition and favorable rulings for the firm's clients; advisor to national and foreign companies in labor, tenancy, civil and administrative matters; experience in immigration processes.
EDUCATION
Law Degree – Universidad Nacional Autónoma de Honduras.
Master Degree in labor law and labor procedure law – Universidad Católica de Honduras.
MORE INFORMATION
Member of the Honduran Lawyers Association.
Bilingual (English-Spanish)