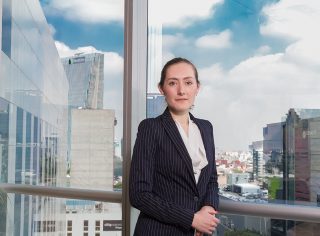 ---
Berenice Sagaón
Corporate / M&A, Labour Compliance Lawyer of ECIJA México
P: (+52 55) 56 62 68 40
bsagaon@ecija.com
Berenice is specialized in the areas of Corporate / M&A, Labour & Compliance (Anti-Corruption, Money Laundering Prevention, Regulatory Compliance Programs, Consumer Protection, Personal Data Protection, among others), with more than 10 years of professional experience.
In contractual law her practice focuses in the structuring and drafting of agreements to document civil, commercial and consumer relationships, negotiating the terms and conditions of agreements to balance and protect the interest of the client and to develop strategies for the prevention and solution of disputes.
Her experience in administrative law has focused in advising for the regulatory compliance applicable to the promotion and commercialization of several goods and services. Berenice has collaborated in the drafting and registration of several agreements, mainly for the provision of telecommunication services, lease agreements, real estate maintenance services, etc. In addition, she provides legal analysis and recommendations concerning labeling and advertisement of products.
In the compliance she has assisted clients in the drafting and implementation of policies to guaranty the compliance with applicable regulation (personal data protection, anti-corruption, anti-money-laundering, etc.). She has specialized in responding and following-through of proceedings with several administrative authorities related to compliance, including its stages of conciliation, investigation, verification, penalties and annulment.
Berenice studied Law Degree at Universidad La Salle, ULSA, in Mexico.
She is co-authored the article "Ticket overselling and its impact on consumer rights", published by the Mexican Supreme Court of Justice and the Mexican Bar Association ("BMA").
She actively participates in conferences and seminars organized by the Mexican Bar Association ("BMA") in her areas of practice.
Berenice speaks Spanish and English.