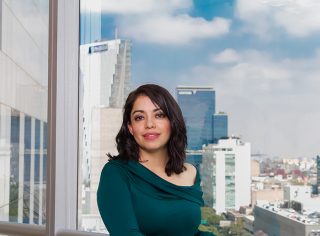 ---
Kaynicté Pérez
Corporate/M&A and Information Technology Lawyer of ECIJA México
P: (+52 55) 56 62 68 40
kperez@ecija.com
Kaynicté has more than 10 years of experience in advising national and international companies regarding real estate, labor, transactional, collaboration agreements, joint ventures, civil and commercial agreements, company restructures, as well as, planning of contractual structures for growth and development of companies.
She counsels national and foreign clients in aviation law affairs, such as normativity, regulation agencies, freight-forwarding in airports and customs, airspace usage rights, registration and incorporation of airships, flight crew licenses and other related affairs.
In addition, she has advised companies related to new technologies, e-commerce and internet.
Kaynicté studied Law Degree at Escuela Libre de Derecho in Mexico, she also has a Postgraduate in Commercial Law from the Universidad Panamericana. On the other hand, she has a Master of Laws (LLM) from Anglia Ruskin University at Cambridge, UK, and a Master in Company Law from Universidad Panamericana.
She speaks Spanish and English.