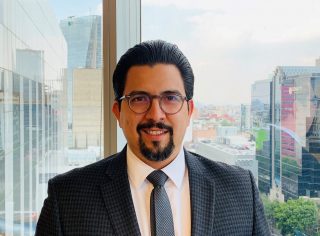 ---
Adalberto Méndez López
Asociado Senior, Derechos Humanos, Empresas y Responsabilidad Social de ECIJA México

amendez@ecija.com
Adalberto es abogado Especialista en Derechos Humanos y Empresas, así como en estructuración de proyectos de Responsabilidad Social Corporativa con perspectiva de prevención de riesgos legales. Cuenta con más de 5 años de experiencia en litigio estratégico, ante los sistemas de protección internacionales.
Adalberto es Licenciado en Derecho por la Universidad La Salle, Ciudad de México.
Ha estudiado el pre-Master Program en Istanbul Bilgi Universitesi, Estambul, Turquía
Cuenta con la especialidad en Derecho Internacional de los Derechos Humanos de la American University Washington College of Law en Washington, D.C.
Adalberto estudió la Maestría en Estudios Legales Internacionales en American University Washington College of Law en Washington, D.C.
Él es precursor en México en consultoría en materia de Derechos Humanos y Empresas, así como en el desarrollo de programas de responsabilidad social corporativa, integridad empresarial y prevención de riesgos legales asociados a violaciones de derechos humanos.
Adalberto cuenta con diez años de experiencia profesional en litigio estratégico doméstico e internacional en materia de derechos humanos, habiendo participado en procedimientos ante los Sistemas de Protección a Derechos Humanos de las Naciones Unidas, Interamericano y Africano.
Ha colaborado como asesor de organismos internacionales y gobiernos extranjeros en 17 países, y ha sido funcionario público en tres ocasiones con experiencia en el sector gubernamental por más de 5 años, habiéndose desempeñado como asesor legal de la Embajada de México ante la OEA en Washington, Director del Mecanismo de Monitoreo de los Derechos de las Personas con Discapacidad de la Comisión Nacional de los Derechos Humanos (CNDH), Jefe de Oficina en el Senado de la República, y Director General de Vinculación y Evaluación de Delegaciones del Instituto Mexicano del Seguro Social (IMSS).
Adalberto es miembro de la Barra Mexicana Colegio de Abogados (México), de la Asociación Nacional de Abogados de Empresa (México), y de la International Legal Fraternity Phi Delta Phi (E.U.A.).
También es catedrático de distintas instituciones académicas en México, tales como Universidad La Salle, Universidad Panamericana (UP), Escuela Libre de Derecho, Universidad Iberoamericana, Instituto Tecnológico Autónomo de México (ITAM) y Universidad Nacional Autónoma de México (UNAM). Profesor visitante de Derechos Humanos del Posgrado en Trabajo Social de la SUNY University at Buffalo, en Nueva York, Estados Unidos, y consultor desde 2015 del Instituto Interamericano de Derechos Humanos de la OEA en Costa Rica.
Adalberto es bilingüe en inglés, y con estudios de italiano y japonés (conocimientos básicos del idioma).