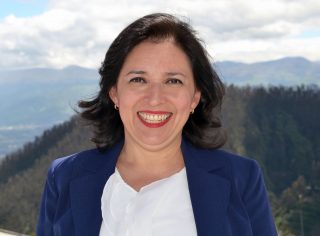 ---
Blanca Gómez de la Torre
Socia de las áreas de Dispute Resolution: Litigación y Arbitraje en ECIJA GPA
Quito, Ecuador
T. +593 2986528
bgomezdelatorre@ecija.com
Linkedin
Blanca cuenta con más de 20 años de experiencia en litigios civiles, comerciales, administrativos y en arbitrajes nacionales e internacionales. Su práctica profesional se ha vinculado también a las áreas de derecho público nacional e internacional, de competencia, financiero, bancario y aeronáutico.
Es doctora en Jurisprudencia de la Pontificia Universidad Católica del Ecuador, especialista superior en derecho procesal por la Universidad Andina Simón Bolívar y tiene un Master en derecho comercial internacional de la Universidad Internacional de la Rioja en España.
Blanca ha actuado como abogado de parte en arbitrajes de inversiones, comerciales bajo reglas CIADI, CNUDMI, CCI, entre otros.
Es miembro de la lista de árbitros de la Cámara de Comercio de Quito y de la Cámara de Comercio de Lima. Ha sido árbitro del ICDR de American Arbitration Asociation y en la Cámara de Comercio de Quito.
Blanca es actualmente Vicepresidenta del Instituto Ecuatoriano de Arbitraje, es miembro del ICC Institute of World Business Law, del Chartered Institute of Arbitrators (FCIArb.), del Club Español de Arbitraje (CEA) y del Latin American International Arbitration (LIA). Es socia fundadora de WIP Ecuador.
Se desempeña como profesora de Métodos Alternativos de Solución de Conflictos y de Arbitraje Comercial en la Universidad San Francisco de Quito.
Ha sido coautora de las siguientes publicaciones: "Derecho De Corrección Económica, Defensa De La Competencia Y Competencia Desleal" "Caso OXY. Defensa Jurídica de una Decisión Soberana y en derecho del Estado Ecuatoriano", Caso CHEVRON: Defensa del Ecuador frente al uso indebido del arbitraje de inversión" y "Visión Crítica del Arbitraje de inversiones desde la experiencia del Ecuador"
Blanca habla inglés y español.