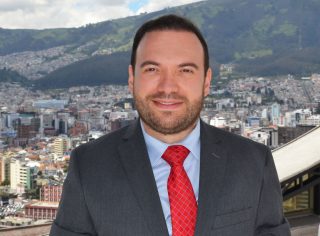 ---
Esteban Cajiao
CEO Manager – Lawyer Corporate / M&A – Compliance – Data protection and privacy – Information technologies in ECIJA GPA
Quito, Ecuador
T. +593 2986528
ecajiao@ecija.com
Linkedin
Lawyer specialized in corporate legal risk prevention, control standards and information technologies.
Esteban has more than 10 years of experience in corporate consulting, control and monitoring of management and internal business processes.
He advises important national companies in legal matters of senior management, strategic plans and information and communication technologies.
He works as a scientific researcher and has more than 12 years of experience as a university professor in the areas of communication, law and technology.
He is a lawyer from the University of the Hemispeheres in Ecuador, he has a Master's Degree in corporate communication and brand identity from the International University of La Rioja in Spain.
He is a communicator with an emphasis on corporate communication and journalism from the University of the Hemispeheres in Ecuador.
He has an International Customer Relationship Management Certification from the Argentine CRM Association and is a certified Professional in Experiential Marketing by Management Training in Ecuador.
He speaks Spanish and English.