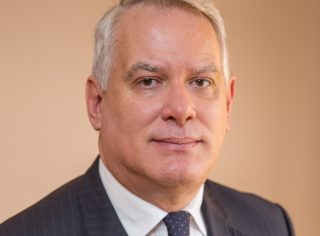 ---
Luis Fernando Pacheco
Partner of Oil & Gas, Energy
São Paulo and Río de Janeiro, Brasil
T. +55 11 3078-7212 / +55 21 2212 2400
lpacheco@ecija.com
Luis Pacheco has extensive experience in the oil and gas segment, advising clients on trends, updates on legislation, and regulation and strategies in conducting complex business in these sectors.  He is a renowned expert in all areas of oil and gas exploration and production, distribution and refining negotiations, including mergers and acquisitions, farm-in/farm-out, international trade, obtaining environmental licenses, EPC contracts, joint operations contracts (JOA), joint bidding (JBA), oil purchase and sale, assistance to clients in bidding processes, project financing, participation contracts and service contracts.
He has participated in the development of some contracts and legal instruments currently used in the Oil & Gas segment in Brazil. He frequently represents international blue-chip Oil & Gas companies from several locations such as: Australia, Colombia, France, India, Brazil, Chile, United Kingdom, Oman, Singapore, Russia and Arab Emirates, conducting them with mastery through Brazil's complex legal structure.
Luis Pacheco's clients consider him to be a professional with practical experience, and more than one has already referred to him as the ideal business partner to help them understand the complex Brazilian laws and regulations.
He is considered by industry publications to be one of the lawyers in Brazil's oil and gas circuit with a strong performance and excellent contacts with the wider energy community.
He is a frequent speaker in Brazil and at international conferences, especially in the oil and gas area, and has authored several publications on the subject.  At the beginning of his professional career, Luis Pacheco worked as a foreign associate in Chicago in one of the largest international law firms from 1994 to 1995, and in Brazil as a foreign partner until 2005.
He also served as a member of the Tax Court of the Brazilian Ministry of Finance from 1993 to 1994.   Luis Pacheco holds a degree from Rio de Janeiro State University (UERJ), a Master of Laws, Kent College of Law, Chicago, USA; International Tax Planning, Chicago-Kent College of Law, Chicago, USA; Executive Program, Northwestern University (Kellogg), Chicago, USA; Contracts and Negotiations, Association of International Petroleum Negotiators (AIPN); Specialization in Tax Law, Candido Mendes University, Rio de Janeiro.     Luis Pacheco was Regional Director for Latin America of the Association of International Petroleum Negotiators (AIPN); Vice-Chairman of the Petroleum and Gas Committee of the Brazilian Bar Associationand member of the Board of the Institute of Energy Law, USA.
He speaks Portuguese and English