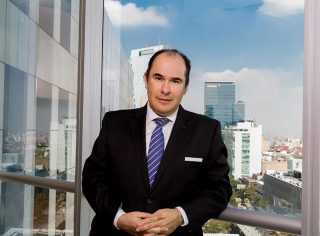 ---
Ricardo Chacón
Partner of Corporate/ M&A at ECIJA México
P: (+52 55) 56 62 68 40
rchacon@ecija.com
Linkedin
Ricardo has more than 25 years of experience in the practice of corporate, commercial, M&A, project finance, antitrust and competition, public bids, energy, information technology and energy law. In his career, he has counseled a vast number of clients in several practice areas and transactions. He has structured complex corporate and project finance transactions in a broad range of industries such as the health and pharmaceutical, energy, automotive, entertainment, telecommunications, exhibitions, fashion, aviation, restaurant and hotel, among others. Ricardo Chacón has ample experience in government acquisitions and regularly advices companies during public bids.
Ricardo studied a Law Degree at the Universidad Panamericana, UP in Mexico, he has a Postgraduate Degree in Corporate Economic Law also in the Universidad Panamericana. He realized a Posgraduate Course in Telecommunications at Instituto Tecnológico Autónomo de México, ITAM. He coursed the Program of Instruction for Lawyers at Harvard School, in USA. He studied the International Business Transactions at "Escuela Libre de Derecho" in Mexico, the Master of Laws (LL.M.) at the University of Texas at Austin in USA, the Master in Corporate Law (LL.M.) at Universidad Panamericana, having been elected Class President (2007).
Ricardo also studied the Master in Legal Sciences (LL.M.) at Harvard Law School, MS, USA. Actually, Ricardo is a PhD in Laws Candidate by the Universidad Panamericana.
He is author of the Mexican Telecommunications Chapter of the publication, "Telecommunications Law & Practice", compiled by Colin Long (Sweet & Maxwell, London).
Ricardo is an active member of the Mexican Bar Association ("BMA"), the National Lawyers College of Mexico ("INCAMEX") and the International Association of Young Lawyers ("AIJA"), being distinguished in the latter as "Honorary Member" after his duties as member of the Executive Committee, National Representative for Mexico and as Vice-President of the Telecommunications & Energy Commission.
He has been a Negotiation and Project Finance professor at the Universidad Panamericana and he is also a Law Professor in the Master's Degree in Corporate Law at the same university.
For many years he has been examiner in professional dissertations corresponding to the Master in Corporate Law (LL.M.) and Master in Economic Law (LL.M.), both at the Universidad Panamericana.
He is also a Law Professor at Universidad La Salle where he has lectured Antitrust & Competition, Corporate Law, Commercial Law and International Arbitration.
Ricardo speaks English and Spanish.