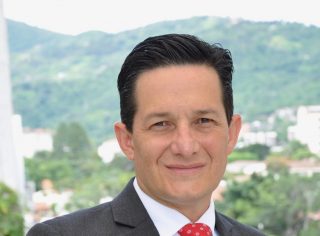 ---
Arturo Guerrero
Special Counsel. Dispute Resolution: Litigación y arbitraje, Derecho bancario, Inmobiliario.
aguerrero@ecija.com
LinkedIn
Formación:
PIDA AVANZADO EN Arbitraje Comercial Internacional – Instituto de Derecho Mercantil Cámara de Comercio Internacional ICC.
Seminario – Legal Issues of International Business INCAE-Georgetown University Law Center.
Técnico en Administración Financiera de la Universidad de Costa Rica
Curso para Corredores de Bolsa. Bolsa Nacional de Valores
Master en Derecho Empresarial – Universidad para la Cooperación Internacional.
Licenciado en Derecho – Universidad Autónoma de Centroamérica.
Experiencia:
Abogado especialista en temas corporativos, relaciones con entidades bancarias y empresariales, litigio y arbitraje; y como auditor en cumplimiento de procedimientos bajo normas ISO.
Con más de 24 años de experiencia en Litigio, Resolución Alterna de Conflictos, Derecho Inmobiliario y Bancario.
Previo a su incorporación a ECIJA se desempeñó como socio de distinguidos estudios jurídicos, tanto locales como regionales, así como abogado in-house en entidades financieras en Costa Rica y en la judicatura en diversos puestos.
Otros Datos:
Miembro de la Cámara de Comercio Internacional (ICC) – Costa Rica, Comisión ADR de International Chamber of Commerce (ICC – París), del Club Español de Arbitraje y miembro fundador – Fiscal de la Asociación Latinoamericana de Arbitraje de Construcción (ALDEC).
Es árbitro listado en los centros administrados por el Colegio de Abogados y Abogadas de Costa Rica, Colegio Federado de Ingenieros y de Arquitectos de Costa Rica, Cámara de Comercio de Costa Rica, Cámara Costarricense-Norteamericana de Comercio y del Centro Iberoamericano de Arbitraje (CIAR).
Notario autorizado.
Bilingüe en inglés