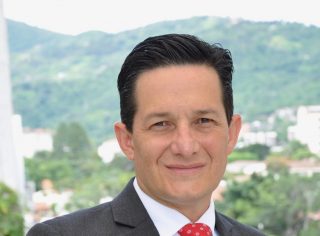 ---
Arturo Guerrero
Special Counsel. Dispute Resolution: Litigation and arbitration, Real Estate, Banking Law.
aguerrero@ecija.com
LinkedIn
EDUCATION
PIDA – ADVANCED in International – Commercial Arbitration, Instituto de Derecho Mercantil Cámara de Comercio Internacional ICC.
Seminar – Legal Issues of International Business. INCAE – Georgetown University Law Center.
Financial Administration Expert, Universidad de Costa Rica
Stockbroker Course, Bolsa Nacional de Valores
Master in Business Law, Universidad para la Cooperación Internacional.
Law degree, Universidad Autónoma de Centroamérica.
EXPERIENCE
Specialized lawyer in corporate matters, relations with banking and business entities, litigation and arbitration; and as an auditor in compliance under ISO standards.
More than 24 years of experience in Litigation, Dispute Resolution, Real Estate and Banking Law.
Prior to joining ECIJA, he served as a partner in distinguished law firms, both local and regional, as well as in-house lawyer in financial entities in Costa Rica and in various positions in the judiciary.
MORE INFORMATION
Member of Cámara de Comercio Internacional (ICC) – Costa Rica, ADR Committee – International Chamber of Commerce (ICC – París), Club Español de Arbitraje and founder member and fiscal of Asociación Latinoamericana de Arbitraje de Construcción (ALDEC).
Listed referee at Colegio de Abogados y Abogadas de Costa Rica, Colegio Federado de Ingenieros y de Arquitectos de Costa Rica, Cámara de Comercio de Costa Rica, Cámara Costarricense-Norteamericana de Comercio and Centro Iberoamericano de Arbitraje (CIAR).
Authorized notary.
Bilingual (Spanish – English)