martes, 23 junio, 2020
ECIJA aterriza en Brasil y Ecuador, consolidándose como la mayor firma española en Latinoamérica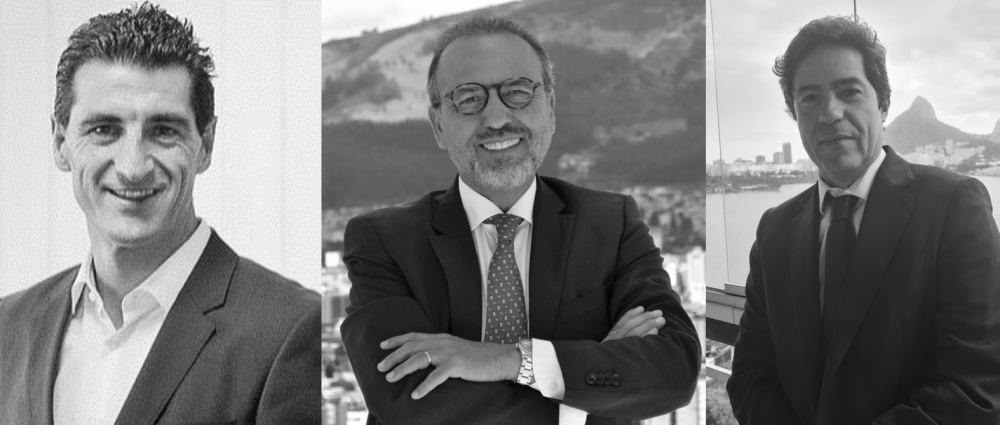 Con este movimiento, ECIJA alcanza ya la cifra de 119 socios y más de 600 profesionales, con presencia en 15 países y 26 oficinas
 Apenas cinco meses después de su entrada en México, ECIJA continúa su ambiciosa estrategia de expansión en América Latina con la integración ahora de la firma brasileña CTA y de la firma ecuatoriana GP&A, ambas reconocidas en directorios internacionales por su liderazgo en sus respectivas jurisdicciones. Con este movimiento, ECIJA consolida su vocación de servicio full-service a nivel internacional, sumando 4 nuevas oficinas en Latinoamérica, ubicadas en las ciudades de Río de Janeiro y São Paulo (Brasil), Quito y Guayaquil (Ecuador). Juntas las dos firmas suman 25 nuevos socios y más de 100 nuevos profesionales.
Como resultado de estas integraciones, ECIJA refuerza su posición como la mayor firma española en Latinoamérica, con presencia en 13 países y 16 oficinas en la región. Las nuevas integraciones llevan además a ECIJA a fortalecer un área de práctica clave en dicho territorio: energía y recursos naturales, con especial énfasis en petróleo y gas.
Brasil
Tras años acompañando a sus clientes en Brasil mediante la colaboración con diferentes firmas locales, ECIJA da ahora un paso adelante en ese cometido, por medio de la integración a su estructura de la firma brasileña CTA y la apertura de dos nuevas oficinas en Río de Janeiro y São Paulo. La nueva firma de ECIJA en Brasil, compuesta por un equipo de 15 socios y más de 60 profesionales, es el resultado de la reciente fusión de distintos despachos locales, líderes en sus respectivas áreas de práctica, tal y como señalan los directorios internacionales Chambers & Partners y Legal 500, así como el principal ranking de despachos de Brasil (Análise Editorial). La firma reunirá profesionales con gran trayectoria en diferentes áreas, desde las principales prácticas como mercantil, laboral y fiscal, hasta industrias específicas como petróleo y gas, telecomunicaciones o transporte y logística. La firma se presenta así en el territorio brasileño como una de las firmas full-service más calificadas, con un proyecto ambicioso de apertura de nuevas prácticas y sectores para los dos próximos años. 
El nuevo equipo de ECIJA en Brasil estará conformado por los socios Marcos Andre Vinhas Catão (Socio Director), Bruno Tocantins, Rafael Pistono, Camila Machado, Guilherme Köpfer, Renata Larichia, Thutia Bernardo, Fernanda Mendes, Cecília Cunha, Margareth Kang, Maria Luciana Souza, Renata Borges, Verônica Souza, Gabriel Corbage y Raphael Dutra.
El socio director de ECIJA en Brasil, Marcos Andre Vinhas Catão, ha mostrado su satisfacción por la integración en ECIJA: "Es para nosotros una gran oportunidad poder integrarnos en una firma moderna, líder en economía digital, con una clara vocación de crecimiento y con una presencia tan relevante en el mercado latinoamericano". El nuevo socio de ECIJA ha hecho hincapié también en la alta capacidad de su equipo de trabajo en el sector del oil & gas, donde Brasil juega un papel clave a nivel mundial: "Entre 2020 y 2030, Brasil será el país número 2 en términos de recepción de inversión extranjera en el sector de petróleo y gas de todo el mundo, solo por detrás de EE.UU. Entre los principales inversores en el sector, destacan las empresas europeas, donde las españolas ocupan un porcentaje interesante".
Ecuador
De igual manera, ECIJA entra también en el mercado ecuatoriano, mediante la integración de la firma GP&A González – Peñaherrera & Asociados Abogados. La nueva firma de ECIJA en Ecuador destaca por su liderazgo local desde 1997, donde su alta competencia como firma multidisciplinar con alta especialización en el sector de la energía ha sido reconocida por los directorios Chambers & Partners y Legal 500. La firma sobresale también en las áreas de Corporate M&A, Fiscal, Laboral, Público y Regulatorio, así como en Derecho de la Competencia.
El nuevo equipo de ECIJA en Ecuador estará conformado por 10 socios: ocho en la oficina de Quito; Francisco Alarcón, Simón Davalos, Blanca Gómez de la Torre, Felipe González Karolys, Gonzalo González, Juan Carlos Montenegro, Paola Rabalino y Michael Veitimilla, y dos en la oficina de Guayaquil; Edgar Méndez y Byron Sotomayor. A ese grupo de socios se suma también un equipo de otros 45 profesionales.
Gonzalo González, socio fundador y director general de ECIJA en Ecuador, ha expresado su satisfacción por la integración, destacando la gran oportunidad para sus clientes de acceder a un servicio homogéneo y de calidad en los principales países latinoamericanos, resaltando además cómo Ecuador pasa por un momento estratégico para atraer inversión extranjera, lo cual será beneficioso igualmente para los clientes de la Firma: "Desde 2017, el Gobierno ecuatoriano ha establecido una política activa dirigida a la captación de inversiones extranjeras, y ahora más que nunca frente a la situación económica ocasionada por el COVID 19 se hace necesaria una reforma estructural de apertura a la inversión extranjera y nacional, que desde luego recibiría respuesta positiva y despertaría interés por parte de las compañías españolas. Actualmente, están establecidas unas 150 empresas españolas, con inversiones de 1.500 millones de dólares en sectores como telecomunicaciones y energía. Ecuador es un país con una gran oportunidad de desarrollo en áreas como energías renovables, nuevas tecnologías, ciberseguridad, protección de datos, entre otros, sin descuidar la fuente principal de su economía: el desarrollo de los hidrocarburos".
Por otro lado, Hugo Écija, fundador y presidente ejecutivo de ECIJA, ha explicado que estas integraciones responden a la responsabilidad de la Firma por ofrecer servicios globales: "ECIJA refuerza no solamente su presencia en América Latina, sino que da un impulso notable a su práctica de Energía y Recursos Naturales, de la mano de dos despachos líderes en este ámbito. Este nuevo hito responde al plan de expansión de ECIJA, que pasa por incorporar áreas de práctica, territorios y profesionales". En este sentido, ha recalcado que el despacho alcanza ya los 119 socios y más de 600 profesionales globalmente, reforzando al mismo tiempo su rol de hub entre Latinoamérica, Iberia y Asia (donde ECIJA cuenta con una importante joint venture con Grandall Law, una de las cinco firmas más grandes de China.
Sobre ECIJA
 ECIJA, con más de 20 años de recorrido profesional, es una de las firmas de referencia del mercado español, según reconocen directorios internacionales como Chambers & Partners o The Legal 500. Ha sido reconocida por The Lawyer como mejor firma de TMT de Europa y por Financial Times entre las veinte firmas más innovadoras del continente. Su relevancia en el mercado español ha sido reconocida por Expansión y por Forbes, que la han destacado como mejor firma en Economía Digital de España. ECIJA cuenta con un equipo de 119 socios y más de 600 profesionales a nivel global.
Sobre ECIJA Brasil
 La nueva firma de ECIJA en Brasil nació en 2019 tras la unión de reconocidos despachos en sus respectivos sectores de actuación, integrando a boutiques y a abogados de asesorías jurídicas de grandes empresas brasileñas e internacionales. Tras las diversas integraciones, el despacho se integra ahora en ECIJA, formando una firma full-service líder en el sector de energía. El despacho está formado por 15 socios y más de 60 profesionales, reconocidos por rankings nacionales e internacionales. Asimismo, destaca por ser puntero en TMT y en la inclusión de nuevas tecnologías para ofrecer soluciones innovadoras.
Sobre ECIJA Ecuador
González Peñaherrera & Asociados Abogados (GP&A), fundada en 1997, es una firma multidisciplinar líder en el mercado ecuatoriano. Su alto grado de especialización es reconocido en directorios internacionales como el británico Chambers & Partners y Legal 500, destacando en las áreas de Energía, Petróleo y Gas, Corporate y M&A, Competencia, Fiscal, Laboral, Público y Regulatorio, entre otros. La Firma asesora tanto a empresas internacionales y como a locales en una variedad de asuntos regulatorios, especialmente, en hidrocarburos. Además, cuenta con una dilatada experiencia en procedimientos de arbitraje complejos, habiendo representado también intereses estatales.