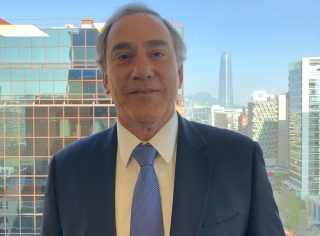 ---
Gerardo Otero
Socio Laboral, Tecnología de la información, Corporate/ M&A, Dispute Resolution: Litigación y Arbitraje
T. (56) 22361 8900
gotero@ecija.com
LinkedIn
Gerardo Otero es socio a cargo en Chile de las áreas de derecho Laboral, nuevas Tecnologías de la información, TMT, IT, sin perjuicio de su participación en otras áreas del Estudio como Corporate/ M&A, Dispute Resolution: Litigación y Arbitraje. Cuenta con más de 30 años de experiencia donde le ha tocado intervenir en la redacción y negociación de diversos contratos, en importantes litigios, resolución de conflictos, procesos de fusiones y adquisiciones, en asuntos de servicios sanitarios y de minería, entre otros.
Con anterioridad a ECIJA, Gerardo ha sido el socio senior en la reconocida firma internacional Estudio Jurídico Otero, ahora ECIJA OTERO.
Gerardo fue además Profesor de Derecho procesal en la Academia de Ciencias Policiales entre 1992 y 2017.
Licenciado en Derecho en la Facultad de Derecho de la Universidad de Chile, de donde se graduó con las más altas calificaciones. Un siete en la escala del uno al siete. El título de abogado le fue otorgado en 1988. Además, realizó el Negotiation Workshop en la Facultad de Derecho de la Universidad de Harvard de 1997.
Gerardo ha sido destacado por parte de International Who's Who of Professionals Historical Society, Madison Who's Who Registry of Executives and Professionals 2009-2010, Lawyer Monthly como Leading Lawyer 100 (2011), por The Best Lawyers desde el 2009 y por Legal 500 desde el 2012.
Entre sus publicaciones destacan:
• Co-autor de Aspectos Fundamentales de los Actos Jurídicos Procesales y su Nulidad. (1998)
• Co-autor de Labour and Employment Compliance in Chile Wolters Kluwer desde el año 2013.
• Co-autor de Labour and Employment 2012 y 2013 Chile, Latin Lawyer
Gerardo habla español e inglés.