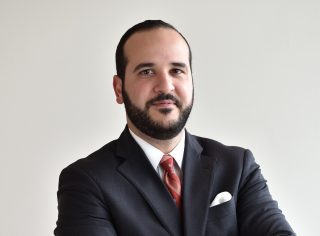 ---
Christian Molina
Socio Fideicomiso, Banca, Inmobiliario, Ocio y Turismo, Corporate/M&A, Laboral, y Dispute Resolution: Litigación y Arbitraje
T. +1 (809) 289-2343
cmolina@ecija.com
LinkedIn
Experiencia:
Christian Molina es socio de las áreas de Fideicomiso, Banca y Finanzas, Inmobiliario y Construcción, Ocio y Turismo, Corporate/M&A, Laboral, y Dispute Resolution: Litigación y Arbitraje de ECIJA República Dominicana.
Christian es un abogado transaccional, y ha fungido como asesor legal de una variedad de clientes internacionales en la implementación, protección y maximización de sus inversiones en la República Dominicana.
Christian posee amplia experiencia como asesor de prestamistas en transacciones financieras sofisticadas, desde llevar a cabo procesos de debida diligencia a prestatarios y sus activos, hasta la estructuración de los correspondientes contratos de préstamo y el registro de las garantías pertinentes.
Además, ha aconsejado a clientes con inversiones en el sector de energía y bienes raíces comerciales, ejecutando adquisiciones corporativas o conduciendo operaciones mediante estructuras de negocios complejas.
Ha sido un pionero en el estudio de la reciente Ley de Desarrollo del Mercado Hipotecario y Fideicomiso, aconsejando a clientes en la creación de sociedades fiduciarias y la estructuración de fideicomisos de garantía y desarrollo inmobiliario de gran complejidad.
Christian es un Scholar de Boston University School of Law y enseña Derecho Fiduciario en varios programas de maestría ofrecidos por la Pontificia Universidad Católica Madre y Maestra (PUCMM).
Ha sido reconocido por Legal 500 y la prestigiosa revista Mercado y es autor de varios artículos y publicaciones de Derecho Fiduciario, incluyendo "La Implementación del Fideicomiso en la República Dominicana", "La Reinvención del Fideicomiso", y "A Legal Strategy to Ensure Host Country Development in Project Finance – Revenue Management Trusts for the Investment of Project Revenues".
Actualmente es el Presidente de la Asociación de Sociedades Fiduciarias Dominicanas, Inc. (ASOFIDOM) y labora bajo un secondment para Fiduciaria Reservas donde funge como Gerente General.
Obtuvo un LL.M. en American Law, International Business Practice, Outstanding Achievement Award, in American Law, en Boston University, y una Licenciatura en Derecho, magna cum laude, en la Universidad Iberoamericana.
Miembro del Colegio de Abogados de la República Dominicana, y de la Asociación de Fiduciarias Dominicanas (ASOFIDOM).
Christian habla español e inglés.
Reconocimientos:
Legal 500 Inmobiliario y Turismo 2017