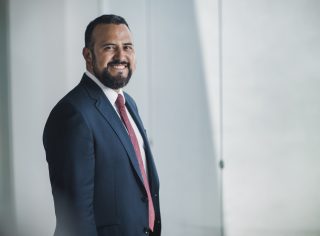 ---
Alfredo Navas Duarte
Partner Corporate/M&A, Immigration, Media, Intellectual Property, Health Law, Risk & Compliance, Real Estate
T. + 503 2298 0131
anduarte@ecija.com
Linkedin
Career:
Alfredo is partner in the areas of Corporate/M&A, Distribution and Consumer Law, Immigration, Media, Intellectual and Industrial Property, Health Law, Risk & Compliance and Real Estate at ECIJA El Salvador.
With over a decade of experience practicing law in El Salvador, Alfredo has managed to capitalize business relationships with its clients and he is daily dedicated to the attention of them in the areas of retail, distribution, financing, immigration, intellectual property and contract negotiation.
He has focused his practice on counseling and supporting local corporations that have come to expand their activities in Central America.
He leads the team that deals with regulatory compliance in both food and beverages, medical supplies, hygiene products, veterinary products and pharmaceutical specialties, as well as in city councils and different government offices.
Likewise, he has participated and led real estate structuring processes in both planning and execution of condominium constitution and sale processes.
He is an external notary of local banks and financiers, providing them with legalization services. Also, has participated as an external consultant in the incorporation of companies focused on financing micro, small and medium corporations. He actively participates in Due Diligence, mergers, and acquisitions in the aforementioned areas and has the ability to lead and work along with other professionals who are involved in these processes.
He has participated in the regional restructuring of companies focused on language teaching, in order to create franchise systems. Also, he has experience in the incorporation of companies dedicated to e-commerce.
He obtained a Postgraduate Degree in International Law, Economics and Finance from the ISEADE-FEPADE, and a JD and Notary Degree from the University Dr. José María Delgado.
He is the director of the José Napoleón Duarte Foundation and the Foundation for the Protection of Children at Risk (Fundaniños).
Alfredo speaks Spanish and English.