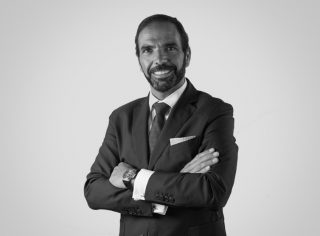 ---
Fernando Antas da Cunha
Corporate / M&A, Dispute Resolution, Litigation, Real Estate, Private Clients
T. +351 21 319 2080
ac@adcecija.pt
Linkedin
Career:
Fernando Antas da Cunha is Managing Partner of ECIJA  office in Lisbon and founder of Antas da Cunha.
He has more than 20 years of experience in advising clients in Corporate and Dispute Resolution, Real Estate and Private Clients. In addition, Fernando is a consultant to Portal GoldenVisa  for the Portuguese market, assisting GoldenVisa clients in their financial and real estate operations.
Fernando is a regular contributor to specialized press, magazines and other publications, emphasizing his participation in Economic TV (Diario Económico).
He is a member of the International Bar Association (IBA) where he has already participated as a speaker on several occasions.
He has been recognized as one of the best lawyers in Corporate Law in the Portuguese market by the Global Law Experts directory and referenced in the TOP 500 Leading Lawyer directory.
Fernando speaks Portuguese, Spanish and English.