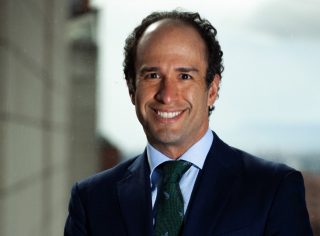 ---
Pablo Márquez
Partner of  Antitrust, Information Technology, Dispute Resolution: Litigation & Arbitration, Regulatory and Government Affairs at ECIJA Colombia
P: + 57 310 816 8169
pmarquez@ecija.com
LinkedIn
Lawyer specialized in Antitrust; Merger Control; Telecommunications; Information Technologies; Arbitration, Regulatory and Government Affairs, and Public Policy, with more than 20 years of experience in both the public and private sectors.
EXPERIENCE
Former Chairman of Colombia's Commission for Communications Regulation (CRC). Before this post, Pablo was the Superintendent for Antitrust at the Colombian Competition Authority (SIC).
Pablo is an acknowledged competition law, economic and administrative regulation expert, with substantial experience in antitrust laws, merger control, telecom regulation and Internet governance.
Pablo has repeatedly been recognized by Chambers & Partners and Legal500 among the best lawyers in Colombia in his field of practice. Likewise, the Global Competition Review has recognized him in its 40 under 40 lists and nominated him as Dealmaker of the Year in 2020.
In his experience, both as the Chairman of the CRC and Superintendent for the SIC, Pablo gained significant industry expertise in different sectors, including finance, oil & gas, energy, retail, telecommunications and media, healthcare, agriculture, among others.
After several years in the public sector, in early 2015 Pablo co-founded the Colombian law firm MBCR, now known as ECIJA Colombia.
EDUCATION
Law Degree – Pontificia Universidad Javeriana
Philosophy Degree – Pontificia Universidad Javeriana
Masters Degree in Economics – Pontificia Universidad Javeriana
Laws Master – Harvard University
Doctor in Competition Law (PhD) – University of Oxford
MORE INFORMATION
Recognized by Who is Who Legal, as a Future Leader in Antitrust.
Recognized by the Global Competition Review as one of the world's top 40 antitrust lawyers under 40 years old (40 under 40) in 2016.
Shortlisted by the Global Competition Review as Best Lawyer under 40
Shortlisted by the Global Competition Review as Dealmaker of the Year 2020.
Recognized by Revista Dinero (Colombia) as one of the 40 under 40 leaders of Colombia.
Listed in Chambers and Partners (Rising Stars) and Legal 500 as Recommended Lawyer in Antitrust and Telecommunications.
Pablo has won several awards such as the Robert Cooter Award in Law and Economics, the Central Bank Scholarship –Enrique Low Murtra- and was granted the Medal in Communications by the Government of Colombia.
Fluent in Spanish and English.