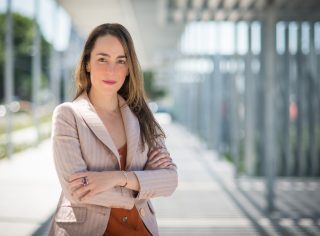 ---
Patricia Renjifo
Partner of Media, Intellectual & Industrial property; Entertainment Law; Startups, innovation and entrepreneurship at ECIJA Colombia
T: + 57 1 7551352
prenjifo@ecija.com
LinkedIn
Lawyer specialized in Intellectual Property, Media, and Entertainment Law, with more than 14 years of experience in her field of practice.
EXPERIENCE
Patricia has more than 14 years of professional experience advising national and international cinema and television productions in countries like Colombia, Chile, Costa Rica, France, Mexico, Argentina, Panama, United Stated, Spain, among others.
She has broad experience rendering consulting and legal services for Colombian television and cinema producers, who produce on behalf of or in association with national and international channels.
Likewise, Patricia advised the first producer who applied for the Certificate of Audiovisual Investment in Colombia before PROIMÁGENES and has been fully engaged in the processes of defining incentives and benefits granted in Colombia for audiovisual investments.
Patricia is also a renowned Trial Attorney in Entertainment Law, Copyright and Image Rights matters, before ordinary judges and arbitration tribunals.
For several years Patricia led a highly reputed law firm specialized in Media and Entertainment Law, which merged in 2020 with MBCR, now known as ECIJA Colombia.
ECIJA Colombia has consolidated as the leading practice in Media and Entertainment in Colombia, with over 100 projects in their portfolio.
EDUCATION
Law Degree – Pontificia Universidad Javeriana
Specialization certificate in Commercial Law – Pontificia Universidad Javeriana
Masters Degree in Intellectual Property – Pontificia Universidad Javeriana
Specialized studies in Intellectual Property – WIPO.
MORE INFORMATION
Ranked by Leaders League 2020 as "Excellent" in her practice areas.
International Arbitrator- Member of The Chartered Institute of Arbitrators MCIarb
Participated in the 5thUS Film Industry Immersion Program organized by Egeda and the LATC in Los Angeles, California.
She also studied Executive Film Production at ENACC and "Curaduría, Gestión y Networking de Muestras y Festivales de Cine" at Escuela Internacional de Cine of San Antonio de los Baños, EICTV, Cuba.
Fluent in Spanish, English, and French.