Tuesday, 14 March, 2017
ECIJA and Sagardoy introduce the first Expert Course in New Technologies and Labour Relations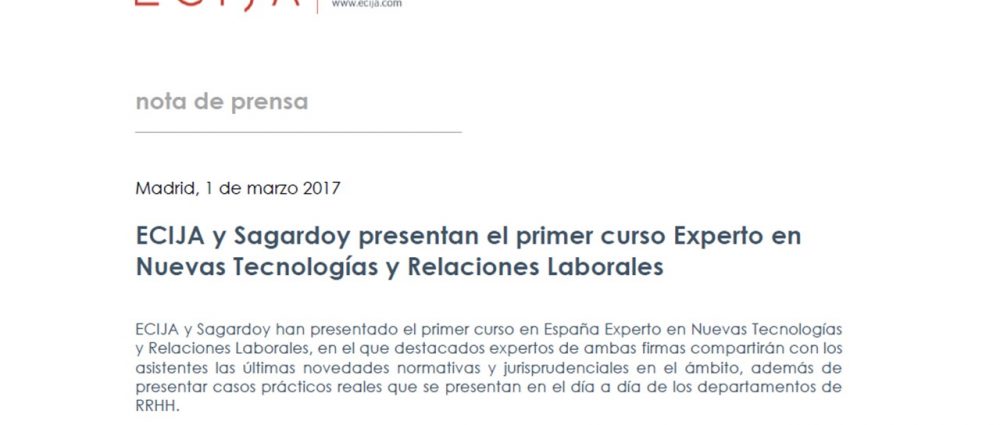 ECIJA and Sagardoy introduce the first Expert Course in New Technologies and Labour Relations
ECIJA and Sagardoy have presented the first Expert Course in Spain in New Technologies and Labour Relations, in which leading experts of both firms will share with attendees the latest regulatory changes and legal developments in the field, in addition to presenting real cases which arise in the day-to-day of the departments of HR.
The course is directed by Jesus Mercader, professor of Labour Law and National Health Service of the University Carlos III and Head of the Institute of Labor Relations and Employ of the Center of Studies Sagardoy, who will approach issues such as the technological change and new working methods; practical problems of telecommuting; business video surveillance and impairment of the rights of the employees and IT surveillance: control of the email, internet and computer; the right data protection on labour relations and the impact of social networks in the field of labour relations.
Among the cast of speakers who will issue the Course, from Sagardoy: Jorge Travesedo, of counsel; Maria Jesus Herrera, Roman Gil, Alberto Sancho and Raquel Muñiz, Partners at the Firm; on behalf of Écija Abogados, Alejandro Touriño, Managing Partner at ECIJA; Raúl Rojas and Daniel Lopez, Partners at the Firm, and Javier de Miguel, senior associate. Also among the speakers, will participate Andrés Trillo, Head of Legal of the National Institute of Health Service.
The program will also analyze aspects such as technological innovation and employment contract, the projection of new technologies on collective labor relations; the electronic Administration and it´s impact in labour issues; the use of technological resources as legal evidences and the processing of personal information of third parties in the judicial process.
DOWNLOAD PDF