Tuesday, 23 May, 2017
ECIJA, current winner of two Expansion Awards as best IP / IT Law Firm and most innovative Firm, chosen again as a finalist for the 2nd edition of the Awards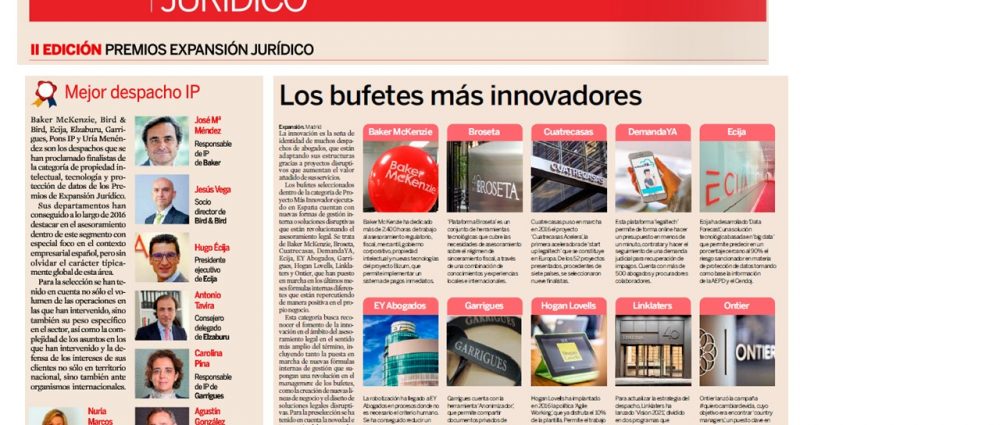 ECIJA, current winner of two Expansion Awards as best IP / IT Law Firm and most innovative Firm, chosen again as a finalist for the 2nd edition of the Awards.
Today, Expansión has announced the finalists of the 12 categories of the Expansion 2017 Awards, in which ECIJA has again been chosen finalist in the categories of best IP / IT / and Most innovative project in the Spanish market.
The Firm has been chosen among the best Firms of the Spanish market in the following categories for the 2nd Edition of the Awards, which will be announced on June 15 at the gala that will take place at the Teatro Real in Madrid:
Best IP / IT / Data Protection Law Firm: The technical team that has reviewed the nominations has taken into account not only the volume of transactions, but also its importance and weight in the sector, as well as the complexity of the matters discussed and defending the interests of their clients not only on national territory, but also before international organizations, selecting ECIJA among the top firms in this category.
Most innovative project: ECIJA competes in this category with its "Data Forecast" solution, a technological development based in big data that predicts in a percentage near to 90% the risk of penalty in terms of data protection, based on information provided by the AEPD and Cendoj.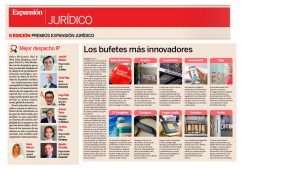 Likewise, Expansión reports the election of Hugo Ecija as a member of the jury, composed of the secretaries of the board of the main companies of the Ibex35 and the managing partners of the main law firms of the national scenario.
DOWNLOAD PDF