Monday, 10 December, 2018
Fintech Iberian Conference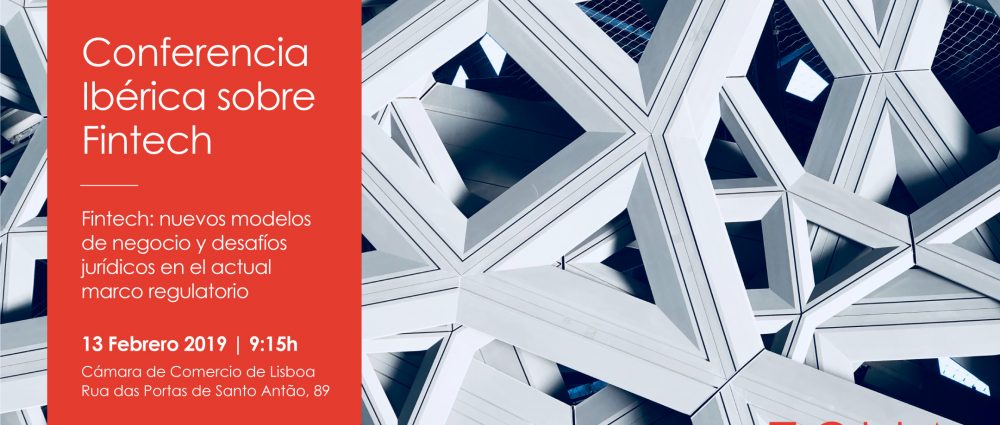 Next February 13th, we organize in Lisbon the 1st Iberian Conference on Fintech, in which we will analyze the new technologies and their impact on the new business models of the financial sector, as well as the main legal challenges that concern the industry and regulators in a context in which legal uncertainty still stands out. We will be accompanied by relevant players from the Spanish and Portuguese financial industry and the main regulators and supervisory authorities in the Iberian market, including the European Commission, the CNMV, the CMVM and the Bank of Portugal.
Click here to register.
Organizer: ECIJA 
Place: Main Hall of the Lisbon Chamber of Commerce
Date: 13 February 2019
PROGRAM
9:15 – Registration and coffee
9:45 – 10:00 – Opening
João Pedro Guimarães, General Secretary of the Chamber of Commerce.
Alejandro Touriño, Managing Partner, ECIJA
Fernando Antas da Cunha, Managing Partner, Antas da Cunha ECIJA
NEW TECHNOLOGIES AND NEW BUSINESS MODELS IN THE FINANCIAL SECTOR
10:00 -10:10 – ECIJA (Cristina Villasante, Manager Ecija)
10:10 – 10:30 – Raize (Afonso Eça, Cofounder at Raize and FinTech Professor at Nova)
10:30 – 10:50 – Abanca (Pedro Pimenta, CEO)
10:50 – 11:10 – Montepio (Dulce Mota, Board Member at Caixa Económica Montepio Geral)
11:10/11:30 – Coffee Break
FINTECH: REGULATORY AND SUPERVISORY CHALLENGES AND POSSIBLE ANSWERS
11:30 -11:40 – ECIJA  (María Ruiz de Velasco, Manager Ecija)
11:40 -12:00 – European Commission (Diego Valiante, Team Leader for the Crowdfunding Regulation at the European Commission)
12:00-12:20 – Spanish Securities Market Commission (Francisco del Olmo, Deputy Director at CNMV's Fintech and Cybersecurity Department)
12:20-12:40 – Portuguese Securities Market Commission (Maria João Teixeira, Director at CMVM's Investor Relation and Market Development Department)
12:40 – Closing remarks by Helder Rosalino, Member of the Board at Banco de Portugal
Click here to register.
DESCARGA PDF

---
Linked partners