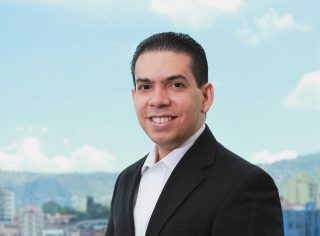 ---
Roberto Williams
CFO & Partner
T. +504 2271 0254
rwilliams@ecija.com
Linkedin
Roberto acts as Arbitrator, Mediator and Secretary of Arbitration Courts, certified by the Conciliation and Arbitration Center of the Chamber of Industry and Commerce of Tegucigalpa.
Roberto has experience as an arbitrator and for advising local and foreign clients in cases related to intellectual property, energy and public procurement.
He also stands out for his practice in litigation related to intellectual property and insurance claims.He has advised government institutions in conciliation and arbitration proceedings related to the contracting of public works, as well as individuals and commercial companies in judicial and arbitral litigation related to contractual and industrial property issues, as well as to insurance companies.
Since April 2012, he teaches Negotiation and Promotion of Investments, Commercial Law and International Business Law at the Technological University Center (CEUTEC), member of the Laureate International Universities network.
Accredited in the "PIDA Training" of International Commercial Arbitration (Arbitration procedure under the ICC 2012 Arbitration Rules), endorsed by the Institute of International Commercial Law of the International Chamber of Commerce.
He has represented individuals and companies in lawsuits and arbitrations regarding contractual and industrial property matters, as well as Insurance Companies.
He held the post of attorney general at the Offices of the Human Rights National Commission in 2001.
He is an instructor at the Chamber of Commerce and Industry of Tegucigalpa in matters of Distribution and Industrial Property; has also participated as an assistant and speaker in International Arbitration Conferences for the Young Arbitrator Forum of the international Chamber of Commerce.
Languages: Spanish and reading-level English.