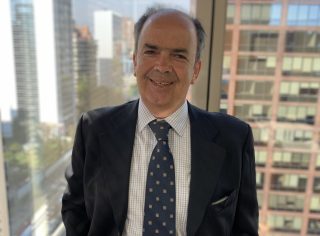 ---
Rodrigo Nelson
Dispute Resolution: Procesal y arbitraje, Defensa y Prevención Penal, Derechos Humanos
T. (562) 2361 8900
rnelson@ecija.com
LinkedIn
Career:
Rodrigo Nelson is a partner in the Dispute Resolution and Litigation areas of ECIJA. He has over 25 years of experience, in which he has acted as a lawyer in civil law, water rights, procedural law and litigation and general practice.
After his first stage through Estudio Juridico Otero, now ECIJA OTERO, as a paralegal and as a junior lawyer (1989 to 1993), , Rodrigo rejoined the firm in 2008, specifically the judicial area, of which he is now the head partner.
He has specialized in litigation, arbitration and bankruptcy proceedings, both national and international. He has participated and intervened in complex disputes related to regulated markets, construction, corporate conflicts, mining, insurance, compensation, both with national and international clients investing in Chile. He also has extensive experience in negotiations and in accompanying clients in pre-judicial stages.
In addition, he has been the lawyer of the Asociación Canales del Maipo (1993-2000), of the Asociación de Canalistas ex Fundo Santa Ana de Chena (1999-2002) and lawyer of the Agreements and Large Debtors Area of the Office of the Prosecutor of Banco Santiago, now Banco Santander Chile (1994-1998).
Rodrigo was Assistant Professor of the Department of Procedural Law at Gabriela Mistral University (1992-1998).
He is graduated from Law School at Gabriela Mistral University and obtained his law degree in 1992. Rodrigo also attended the National and Internacional Course of Arbitration at "Universidad del Desarrollo" and completed in 2020 the course on National and International Institutional Arbitration at CAM Santiago.
Rodrigo speaks Spanish and English.