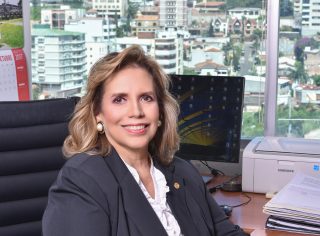 ---
Rosalinda Cruz Sequeira
Partner Banking, Media, Intellectual Property, Dispute Resolution, Corporate/M&A, Public Law 
T. + 504 2271 0254
rcruz@ecija.com
Career:
Rosalinda is partner in the areas of Banking & finance, Media, Intellectual & Industrial Property, Disputes Resolution: litigation and arbitration, Corporate/M&A, Public & Government Affairs and Notarial Law at ECIJA Honduras.
Rosalinda is a well-renowned in the financial, banking and insurance sector, concentrating her practice in corporate, commercial, regulatory and insurance matters, as well as in arbitration, being a pioneer in matters of mergers and acquisitions of Financial System and Notary Institutions Public
She is also a very active professional in the area of Human Rights. She has been a national and international speaker on issues of democracy, women, law, ethics and others.
She has participated in the elaboration and conclusion of bills, such as the Rights of Author and Related Rights Law, Industrial Property Law, Insurance and Reinsurance Law, Financial System Law, Law of the Central Bank of Honduras, Consumer Protection Law, Competition Law and others.
For more than 25 years, Rosalinda taught at the undergraduate and postgraduate level at the National Autonomous University of Honduras, Universidad Tecnológica Centroamericana, and the Catholic University of Honduras, in various subjects such as Introduction to the Study of Law, Commercial Law, Intellectual Property, Administrative Law, and Insurance Law.
She was elected Proprietary Commissioner of the National Commission of Banks and Insurance, holding this position from 2002 to 2005. She also served as Director of the inter-institutional program Judicial Power, Public Prosecutor's Office and Police of the Inter-American Development Bank.
She was elected by the National Congress as Magistrate to the Supreme Court of Justice in 2009, serving as Magistrate of the Constitutional Chamber until 2012, in charge of the Directorate of the Gender Unit of the Supreme Court of Justice.
She obtained a PhD in Business Law from Buenos Aires University and Universidad Nacional Autónoma de Honduras, and a Juris Doctor from Law School of Universidad Nacional Autónoma de Honduras.
Member of the Honduran Bar Association, Consciousness of Honduras, Association of Teachers of the Faculty of Law, Association for the Study of Insurance Law (AIDA), XXI century, PRO-LIFE Committee, Partnership for the Family and Alliance Defending Freedom. She is a Certified Arbitrator of the Center for Conciliation and Arbitration of the Chamber of Commerce and Industries of Tegucigalpa.
Rosalinda speaks Spanish and has basic knowledge of English, French and Italian.