Tuesday, 18 December, 2018
ECIJA, Law Firm of the Year in Corporate Compliance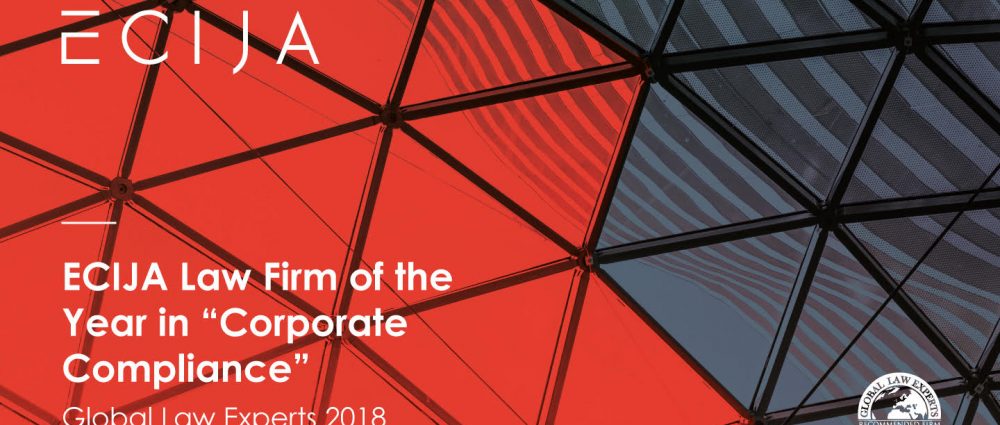 ECIJA, Law Firm of the Year in Corporate Compliance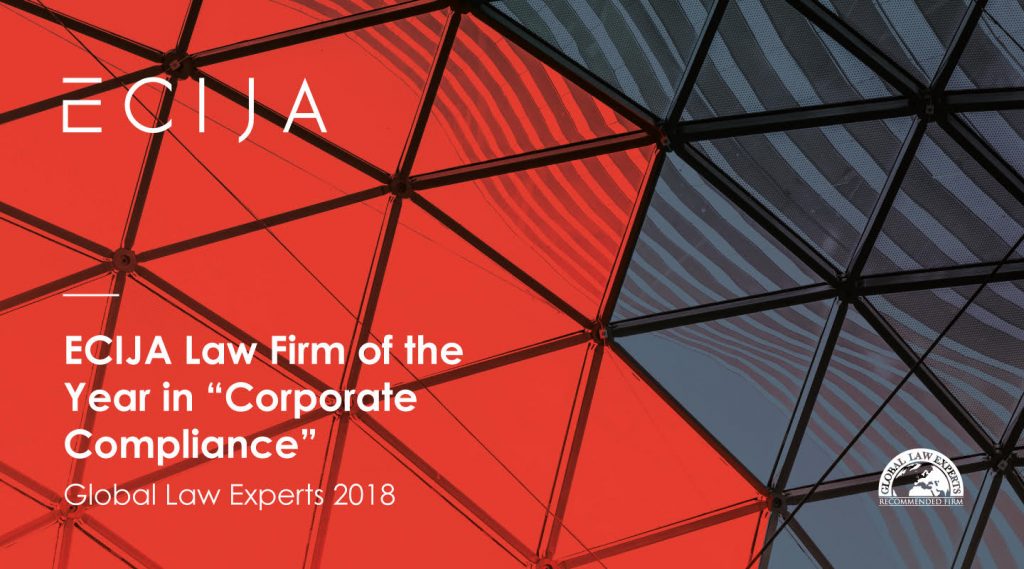 The British publication Global Law Experts has recognized ECIJA as the Best Firm in Spain in Corporate Compliance.
ECIJA has been recognized as Law Firm of the Year in Spain in Corporate Compliance, by the British publication Global Law Experts This discipline, which includes assistance and advice to clients in the preparation, implementation and validation of comprehensive crime prevention systems, has gained special importance in recent times, following the reforms carried out in the Criminal Code in 2010 and 2015, establishing the new category of criminal risk, which results in the obligation to establish a new legal framework through which companies (regardless of their size) are forced to implement crime prevention programs that are effective and that allow to detect and prevent the criminal risks existing in their organizations.
Global Law Experts has recognized the work that the Firm has been developing in terms of regulatory compliance in criminal law, recognizing its multidisciplinary strategy in overcoming the challenges faced by organizations, and in offering effective responses to clients of all the sectors of activity with a cross-border scope.
GLE is one of the leading digital publications of the international legal sector for locating specialist legal advisers for the services required by businesses, investors and individuals, analyzing more than 140 countries and 2000 professionals.
In the words of Alejandro Touriño, Managing Partner of ECIJA "this is another recognition of the great work that ECIJA professionals develop every day. We receive it with great enthusiasm, as it values and reinforces our consolidation as a full service firm, rewarding the talent of our team in a discipline as relevant in our sector as it is Corporate Compliance ".
According to César Zárate, Corporate Compliance partner of the Firm "it is a privilege to receive this award highlighting our leadership in an area of practice of vital relevance in the Spanish legal scenario."
ECIJA has a Corporate Compliance specialized team leaded by 5 partners and more than 25 professionals, who offer legal advice on regulatory compliance from any of its areas, applying a multidisciplinary strategy that combines the cross-cutting experience of different practice areas.
DESCARGA PDF

---
Linked partners